Garmin Edge 130 GPS MTB Bundle
Compact, Easy-to-use GPS Bike Computer with Cycling Awareness Features
Simplified, rugged design with 1.8" display that's crisp and easy to read in sunlight or low-light conditions
With GPS, GLONASS and Galileo satellites and an altimeter, you'll know how far, fast, hard and high you've ridden on the longest climbs and steepest descents
Includes navigation with turn prompts and even shows you how to get back to start; download courses from the Course Creator feature in Garmin Connect™ online community, and race in real time against Strava Live Segments
Compatible with Varia™ cycling awareness accessories, including rearview radar and smart bike lights
Connected features, when using a compatible device, include smart notifications, weather and more; LiveTrack and Assistance features make it easy to share your location
Battery life: up to 15 hours
It's the little things that make all the difference, which is why you're going to love Edge 130. This ruggedly compact but capable GPS cycling computer has everything you need to navigate your ride, monitor stats, stay connected with loved ones and much more. And it's all in a compact device that goes where you go and won't weigh you down.
Small but Powerful
Whether you ride on singletrack, open roads or city streets, Edge 130 is the perfect riding partner. Compact and lightweight, it's easy to mount on shorter stems and even comes with a mountain bike (MTB) mount to lift the device above the stem while keeping it out of harm's way. The 1.8" mono Memory in Pixel (MIP) display means you'll get a completely crisp view of the screen, even in direct sunlight when you'd normally be squinting at your smartphone screen. Its five-button interface is easy to navigate, and you can even customize the display to show up to 8 data fields on each screen. And don't let its slight stature fool you — Edge 130 is packed with additional features and gets up to 15 hours of battery life between charges.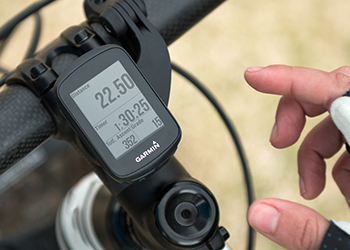 Navigate with Ease
Wherever you ride, the Edge 130 bike computer captures your essential stats. With help from GPS, GLONASS and Galileo satellites for more coverage under dense tree cover — plus a built-in barometer — it tracks how far, how fast and even how high you've ridden. Plan and download your routes with the Course Creator feature from Garmin Connect. Edge 130 will guide you with easy-to-read course prompts and turn prompts. It's even smart enough to direct you back to your starting location.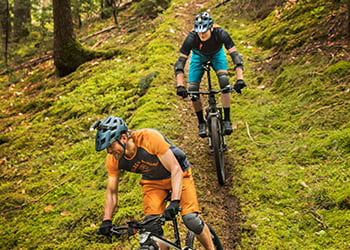 Increased Cycling Awareness
Switching it up and hitting the road? A little peace of mind is going to make every ride that much better. That's why Edge 130 is compatible with our Varia line of cycling awareness devices, including rearview radar and smart bike lights. By pairing these devices with your Edge bike computer, you can get alerts to approaching cars — right on your Edge display — and help drivers see you. When paired with a compatible smartphone, Edge 130 also lets your friends and family follow your real-time location with the LiveTrack feature, and if you happen to run into difficulty during a ride, the Assistance feature can quickly send your current location to chosen contacts so they know where to find you.
Improve Your Performance
The Edge 130 cycling computer is designed to help you amp up your performance so you can strive to improve with every ride. It's compatible with power meters, letting you see how many watts of power you're producing on a flat section or a steep hill. Understanding where you are producing power helps not only with training, it also makes for a more epic ride. And you can make every ride a little more interesting by racing in real time against Garmin and Strava Live Segments, giving you that extra nudge to really push yourself.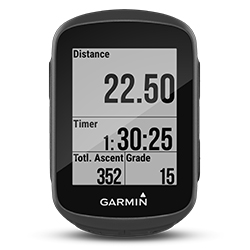 Smart Connections
When using a
compatible
device, Edge 130 lets you keep your phone safely tucked away and still stay connected while you're on the bike. Text messages will appear on your device screen so you can see them at a glance and keep right on riding. Know if you're about to get rained out by using the weather page to keep tabs on current weather and forecasted conditions. You can pair Edge 130 with the compatible Edge remote so you can start and stop the timer, change the page or mark a lap without taking your hands off the bars. And remember — you can automatically upload your rides to the Garmin Connect online community, and even customize your device from our
Connect IQ
™ store by downloading configurable data fields such as the GU Fuel Reminder or Strava Relative Effort.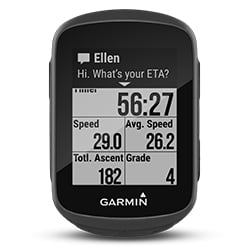 Gear West ships purchases using UPS, FedEx, and USPS. We make every effort to get your order out as quickly as possible. Some products including skis may take longer to process depending on the shop services required. We do not offer deferred shipping options.
U.S. Shipping Options
UPS Ground (3-7 day delivery)
$10.00 Flat Rate!
Excludes All Oversize Items* and shipping to Hawaii, Alaska or Canada

*Oversize packages incur and additional charge (see below for more info on oversize packages).
Hawaii and Alaska Residents
Use USPS Priority Shipping which may include an additional charge.
USPS Priority Post (3-5 day delivery)
Flat Rate = $10.00
Expedited (3 day delivery excludes weekends and holidays)
Flat Rate = $25.00
2nd Day ( 2 Business Days excludes weekend and holidays)
Flat Rate = $50
Overnight (next day air delivery excludes weekends & holidays)
Flat Rate = $70.00
Canadian Shipping Options
USPS Priority Mail (up to 10 business days. Certain items restricted*)
UPS Ground will be used for classic skis over 197 cm
Flat Rate = $35 (An additional Brokerage Fee can be up to $20 or more depending on shipment size. Multiple boxes incur higher brokerage fees. Brokerage fees are the responsibility of the receiver and are non-negotiable.)
Additional charges will be added for shipping of oversize items
*Restricted USPS Priority Items Include: classic skis beyond 197 cm, wax remover, wax tables
Canadian Duties and Taxes are the responsibility of the recipient.
*Oversize Packages - Standard oversize charge = $30.00.
Some items are subject to an oversize freight charge. They include but are not limited to:
-Skis
-Ski Poles
-Sportube Ski Carriers
-Wax Tables and Ski Wax Forms
For shipments to Canada, the oversize charge gets added to the base charge.
Oversize charge covers up to two oversize items. Additional oversize items will accumulate additional charges.
Additional shipping charges may be needed for heavy items.
Curbside and In-store Pickup
available for more details please click
here
.
Order Processing
Orders are processed quickly and ship out on weekdays excluding holidays. Some products and services may add additional delays to shipping which include but are not limited to:
-Nordic Skis: Race skis are hand picked and tested to confirm fit (based on height/weight) and quality, which may delay shipping up to 24 hours.
-Poles to be cut: If you are requesting a pole to be cut to a custom length, this may delay shipping up to 24 hours.
-Basic wax: wax services on skis including hotbox and single layer glide may delay shipping up to 24 hours.
-Premium wax: wax service on skis including World Cup Hotbox, Hotbox + Race hardening and and other race wax services may delay shipping up to 48 hours.
-Stonegrind services: Stonegrinding is an advanced multi-step process that may delay shipping up to 10 days, although it is often much quicker.
-
Outgoing shipments/shipping windows: outgoing shipments are picked up daily Monday through Friday excluding holidays. There is no pickup on weekends or holidays such as Christmas Day and Eve, New Years Day and Eve, Thanksgiving, Labor day and The 4th of July. No orders are shipped on those days. If an order is placed during or near a no-ship window (including expedited or next day air shipping), Gear West is not responsible for resulting shipping delays.
Shipping Restrictions - Some items have specific shipping restrictions or cannot be shipped at all. Restrictions include:
-We currently are unable to ship bicycles.
-Some products such as liquid wax and wax remover cannot be shipped via air transport due to safety regulations/government restrictions, and therefore can only be shipped standard ground
Questions about Shipping?
If you have any questions about shipping your purchase please feel free to contact us: mailorder@gearwest.com Local: 952-473-0377 Toll Free: 877-473-4327
UPS ESTIMATED DELIVERY TIMES
Gear West
NO HASSLE RETURNS!
We want you to be happy with your purchase from Gear West, and if for any reason you need to return or exchange an item we want to make it as easy as possible for you to do so.
RETURN/REFUND POLICY
- Items must be returned within 30 days of purchase. Store credit may be given after 30 days.
- Items must be in new and unused condition and must be returned with all original packaging.
- Clothing items (shoes, boots, and apparel) must be clean and unworn with all original hang tags still attached.
- Partial store credit may be issued if product is returned in used condition or if not returned with original packaging.
- Returns of mounted skis will be charged a 25% restocking fee. Service (mounting, grinds, hotboxes, etc.) will not be refunded.
- If you have any questions please call us toll free at 1 (877) 473-GEAR (4327).
- Gear West does not issue shipping labels or credit shipping costs.
HOW TO RETURN/EXCHANGE AN ITEM
- Pack returned items with original packaging and ship via UPS, Fedex, or USPS insured mail, and include Attn: Returns on the label (see more below)
- If your purchased was completed using a gearwest.com account, you can sign into your account and request a return or exchange. You will be asked to provide an explanation for your return.
- If you made your purchase over the phone or as a guest, please return the item with the receipt, and give a brief explanation for your return and if you are requesting a refund or exchange.
- Return to the address below with your return address shown on the outside of the package:

Gear West
Attn: Returns
1786 W Wayzata Blvd Suite B
Long Lake, MN 55356
PRICING DISCLAIMER
Gear West Ski & Run strives to give you an easy-to-use site that provides accurate content, including product information, policies, pricing, and visual displays which are shown for representational purposes only. All pricing is subject to change without notice. For all prices, products, and offers, Gear West Ski & Run reserves the right to make adjustments due to changing market conditions, product discontinuation, manufacturer price changes, errors, closeouts, specials, and other extenuating circumstances. Pricing changes may occur frequently. As a result of this and the fact that we are human, the documents and graphics published on this site may at times contain errors. We are not responsible for typographical errors or technical inaccuracies and reserve the right to refund any money received on any discrepant order.
Please do not hesitate to drop us an email (info@gearwest.com) or give us a call with any questions:
Local: 952-473-0377
Toll Free: 877-473-GEAR (4327)
Gear West will meet or beat any advertised price on any product we sell. If you are about to make a purchase and discover a lower advertised price offered by a competitor on the same available brand and model, let us know and we'll match that price on the spot.
How Price Matches are Handled:
Simply call us at 1-877-473 GEAR (4327) or send us an email info@gearwest.com with the product you are interested in and where we can find the lower advertised price.
Conditions:
The item must be exactly the same model and color, and be currently available in your size from the retailer whose price you would like us to match.
Exclusions:
The Gear West Price Guarantee does not apply to competitors' free offers, coupon codes, member discounts, limited-quantity items, open-box items, clearance and Outlet Center items, mail-in incentives, financing or bundle offers, or items for sale on Auction sites. The policy does not apply to typographical errors or a competitor's price that results from a price match. We are unable to price match companies that are not based in the US. Price matching is subject to the discretion of Gear West.